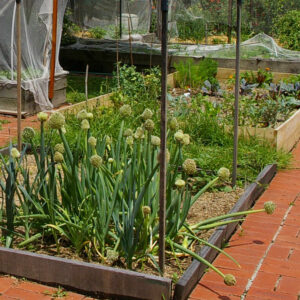 Our thriving community garden is situated next door to the Centre. We have a number of garden beds for rental on an annual basis. The cost to rent a garden bed is based on plot size. Plots cost between $35 and $55 annually per annum.
Gardeners are expected to maintain their gardens, weed their beds regularly, help put out and collect bins, and clean up after use. The community garden is secure and entry is by access key.
Plots are available from time to time and currently, there is a waiting list. To enquire about renting a plot, or find out more about our community garden, please call the Centre on 9885 9401. If we are unable to provide you with a plot, we are happy to take your details and put you on the waiting list.
We run working bees in our garden so come along and join in the fun, as well as gather tips and tricks from experienced gardeners.
The Working Bee dates for our Community gardeners are on the last Thursday of every month.
Gardeners have been asked to attend a minimum of 2 working bees a year to help keep the garden tidy.
Please contact us for more information.